2017 Reflections
Esther Anatolitis reflects on strong themes in NAVA's 2017 advocacy and the wider critical public issues.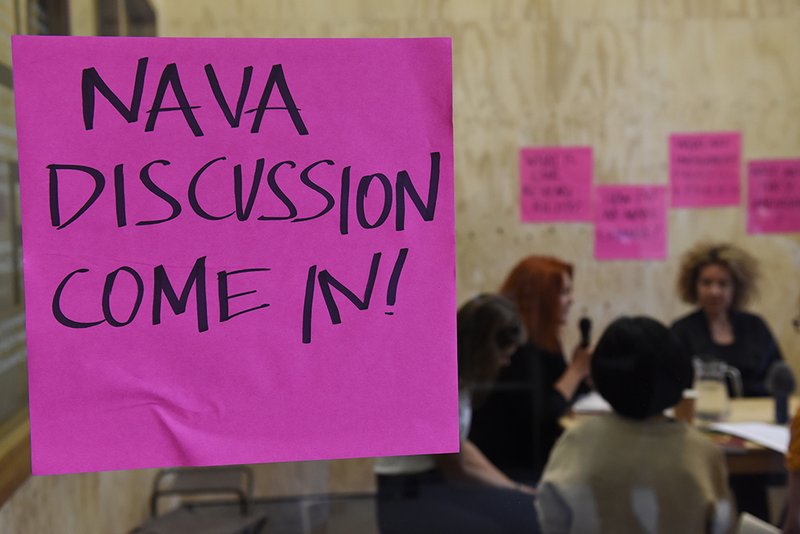 Issues of respect, recognition and identity were strong themes in NAVA's 2017 advocacy – as they were to the Australian conversation throughout the year. While the political conversation wavers tentatively around internal matters, the cultural conversation continues confidently on what's most important to us all.
Advocating Fair Pay for Artists remains a strong focus for NAVA. The only way to ensure that individual artists and the contemporary arts as a whole can survive and thrive to inspire the Australian culture is to ensure that the work of artists is paid – and paid fairly. We celebrated galleries who are paying fees to artists, spoke out against taxing prize money for artists, examined the situation for artist-run initiatives in detail at Hobiennale and elsewhere, and questioned the ethics of constraining charitable organisations' expert contributions to public debate. All of this work continues.

We were pleased to see some of the Catalyst funds returned to the Australia Council and we look forward to seeing the $2m/year remainder of those funds structured into a program that artists can access.
Throughout the year we also supported the campaigns of our partner and colleague organisations. The long-running Fake Art Harms Culture campaign, led by the Indigenous Art Code, the Arts Law Centre of Australia and Copyright Agency | Viscopy, is still working hard to overcome the disrespect and undermining of Aboriginal and Torres Strait Islander artists and culture, and we've summarised a range of responses alongside our contribution.
The Free is Not Fair campaign by Copyright Agency | Viscopy continues to fight for the rights of creators to their own work, and we welcomed the Productivity Commission's acknowledgement that they need to undertake considerably more work in this area before making a decision that could jeopardise our creative industries as well as artists' livelihoods.
Gender equality is a critical issue for us, for our partner organisations, and for you. We looked at the past nine years of the vital work of the CoUNTess, were shocked to see the latest Australia Council research find that gender wage disparity is worse in the arts than in any industry across Australia, and continued to speak with a feminist voice across all issues whether gendered or otherwise.
Across 2017 there were many critical public issues to which we lent our voice. On marriage equality, we asked artists what it meant to have their identity questioned; we offered Members and friends some advice on getting through the survey period; and we reflected on what the outcome means for Australia. We joined many organisations and individuals in sharing our grave concerns for asylum seekers on Manus Island, and contributed to these and many other public discussions through meetings and speaking opportunities, submissions to enquiries, as well as via social media.
Research released in 2017 highlights the growing diversity of contemporary arts – and, alongside that, growing challenges. The Australia Council's Making Art Work offers rich detail on what it means to live and work as an artist today, and our response highlighted the Australia Council's call for building "the support structures, protections and remuneration of Australian artists." The study also highlighted the "serious problem" of gender disparity – one to which we must all remain actively vigilant in the voices we raise and the choices we make.
Research like this – as well as NAVA's own Membership Survey (we're also still reading through your many hundreds of responses! thank you!) motivates the work that we do in supporting artists to sustain a healthy and productive career.
Making passionate public contributions to critical issues is important but exhausting work, and acknowledging that is incredibly important to our physical and mental health. The growing recognition of risks to our mental health in the arts is vital to addressing that together. As our year draws to a close and we begin to summon our 2018 energies, it's timely to reflect on our practice and what it means to us. This, after all, is what it's all about.
Photo by James Photographic Services.