The Power of the Collective
NAVA's Deputy Director, Brianna Munting discusses industrial relations in the visual arts.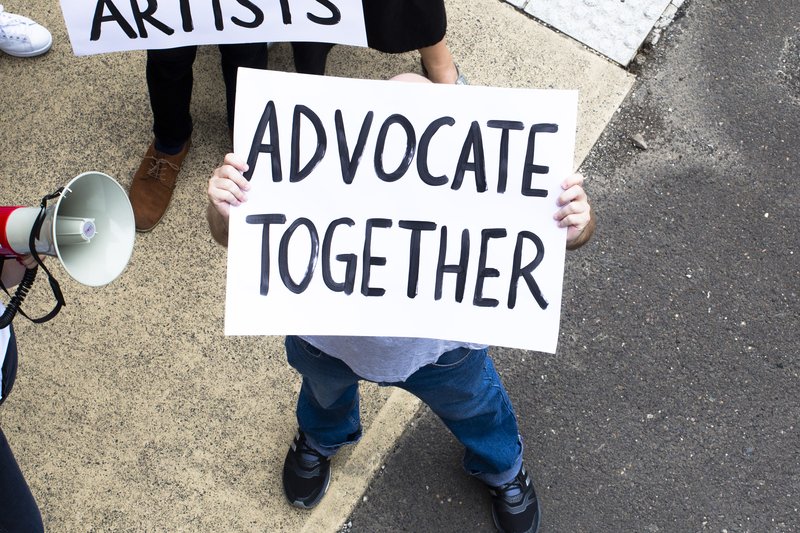 At NAVA we are often asked if we are a union. The short answer is no, not legally, nor feasibly, the long answer is maybe more aspirational. NAVA's history of supporting artists and our continued commitment to equity, fairness and basic industrial rights in the visual arts draws parallels with the ethos of many of Australia's Unions. The history of the Australian union movement includes the establishment of an eight hour work day, political organising that helped save many public spaces, a championing of the rights of workers, women, Aboriginal and Torres Strait Islander communities, and entitlements such as equal pay, superannuation and annual leave. These are rights that NAVA has advocated for in the organisation's 30 year history, alongside unions like the Media Entertainment and Arts Alliance (MEAA). These are rights that we will continue to make sure inform policy, legislation with ethical accountability for arts and other organisations engaging artists.
We are now entering a social and legal moment of change to workplace laws and shifting social demographics. We have an ageing population, with wages unable to keep pace with inflation and living costs and housing becoming almost inaccessible in major cities. Considering these significant factors there is a point where we need to not only discuss and document how potential changes to workplace legislation affects artists and our communities, but also the changes being made on the expectations of creative and cultural labour. Proposed changes to penalty rates, 457 visas, and the proposed reduction in paid parental leave have the potential for creating greater disparity. This combined with an increased casualisation of the workforce, small superannuation entitlements and less wage transparency means greater inequality.
40% of the Australian workforce are employed in insecure work[1], this is particularly prevalent in the arts where it is estimated up to 77% of artists are working as freelancers or self employed [2], and the average income from arts related work is $15,300 annually [3]. As David Throsby rightly points out this means artists are forgoing the sorts of benefits that employees customarily enjoy such as sick leave, maternity leave, employer's superannuation contributions, and holiday pay [4].
NAVA's recent S2M Report found that almost 42% of staff working in small-to-medium visual arts organisations are employed on a casual basis. Even more problematic, is the heavy reliance on volunteers in the arts who receive no financial entitlements. Our report estimated that last year, 7,772 volunteers provided over 278,000 hours of volunteer time to S2M organisations, worth $17 million.
The limited access to benefits alongside the proposed penalty rate changes unfairly impacts the artist community. Especially women, who already experience a gender pay gap where men receive up to 18% higher wages.
In Queensland on 11 May 2017 NAVA will be working with QCA and QUT to present a forum Contemporary Curating and the Gig Economy which will be looking at different models for independent curators to earn a living. In Melbourne, on 18 May we are inviting organisations to attend a Leadership in the Arts Bar Talk that will include discussion on employment conditions that encourage a diversity of voices and experiences, and early next year we will be presenting a national summit where we will discuss some of these issues in greater depth. We are also holding roundtables in each State and Territory with artists, arts organisations and arts workers to address the barriers for paying artists fair and equitable wages the next one is scheduled to take place in Perth, Western Australia.
There is an ethical and often legal responsibility for arts organisations to not only remunerate artists and arts workers fairly but also to pay benefits such as superannuation. We must as a sector understand the social and legal changes that are taking place and commit to leading the way in ensuring equity in pay, providing childcare at large scale key events, paying superannuation to artists, installers and other arts workers and recognising the often destabilising nature of being an artist. It is time that collectively, as a sector, we set the benchmarks of best practice.
---
[1] 2011 figures published by the ACTU
[2] Throsby D and Zednick A 2010 Do You Really Expect to Get Paid? An Economic Study of Professional Artists in Australia, The Australia Council for the Arts
[3] Throsby D and Zednick A 2010 Do You Really Expect to Get Paid? An Economic Study of Professional Artists in Australia, The Australia Council for the Arts
[4] Throsby D and Zednick A 2010 Do You Really Expect to Get Paid? An Economic Study of Professional Artists in Australia, The Australia Council for the Arts