NAVA highlights
Find out what NAVA has been doing this last quarter including campaign work, events, forums and more.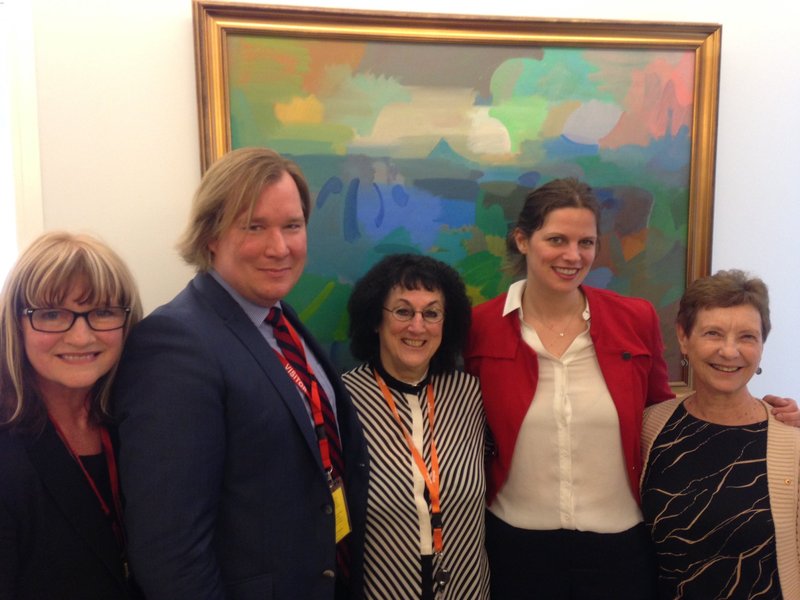 1. Advocacy & Policy
VET Student Loans and STEAM
NAVA released an open letter to Federal Education and Training Minister Simon Birmingham re: his proposal to cut Vet Fee Help for a number of arts courses including for jewellery, ceramics and photography. As part of ArtsPeak, a media statement was issued calling on the Federal Government to take more time and consult properly with the arts and creative industries before rushing into changes to the scheme.
We then took a delegation to Canberra to meet with the Minister in November. This delegation included Julie Moss, Managing Director, Photography Studies College (Melbourne); John Saunders, Education Manager, Sydney Theatre Company and President of Drama Australia and NAAE member; and co-convenor ArtsPeak, and NAAE member; Julie Dyson AM, chair of NAAE and spokesperson for Ausdance and Tamara Winikoff OAM, Executive Director, NAVA. We also met with Kate Ellis MP, Shadow Minister for TAFE and Vocational Education, the Arts Minister's adviser Denise Ryan and Sarah Hanson-Young, spokesperson for Education and the Arts for the Australian Greens.
Previously in October, Tamara Winikoff had met with the Arts Minister's adviser Denise Ryan and senior staff of the Ministry for the Arts, CEO Sally Basser and Stephen Arnott to discuss this and other arts policy and strategy issues. While in Canberra Tamara had meetings with members of the Childers Group, director of Canberra Glassworks and conducted NAVA Pop-Up meetings with members.


Superannuation for Artists
NAVA has been working with arts accountant and gallery owner Michael Fox on capital gains tax and legislation governing Self Managed Super Funds and has presented the ideas to the Arts Minister's adviser and the Arts Department.

Townsville Galleries
NAVA wrote a letter and issued a media statement deploring the lack of cultural commitment by Townsville Council in its sacking of its Gallery Manager, the much admired art professional, Shane Fitzgerald. Tamara Winikoff was interviewed on this matter by ABC Radio North Queensland, WIN News and comment was also published in local newspaper Townsville Bulletin.

Hobart Art Prize
In response to approaches from its members, NAVA has undertaken negotiation with Hobart City Council in relation to its proposal to make changes to the Hobart Art Prize and the closure of the Carnegie Gallery. After consulting with members, NAVA has suggested the prize be replaced with a major curated annual or biennial exhibition and that new CBD exhibition space be provided.

S2M Research
NAVA has been liaising with its consultants, Economists at Large to finalise its commissioned research into the visual arts small to medium arts organisations with an expected launch of the report in early 2017. This work has been supported by the City of Sydney.

National Outreach
Tamara attended the ACUADS Conference in Brisbane and participated in a panel discussion on professionalism for artists. She met with the ACUADS Executive to discuss models for NAVA's provision of professional practice training for art school students around the country.

2. NAVA events
In partnership with Artspace, Sydney, NAVA held a third town-hall style public meeting 'Let's Talk CAO' discussing the situation for Contemporary Art Organisations. Podcast available here.
It was a full house at the 'Beyond Rhetoric' curating forum held at Gertrude Contemporary in Melbourne, as a follow up to Elvis Richardson's CoUNTess Report on gender equity in the arts that NAVA has supported. We have since added some of the issues raised to NAVA's Campaign pages on our website, the podcast from this event is available here.
Organised by our Queensland staff member Carley Commens, Why Flock', NAVA's ARI forum in Cairns was well attended.
Tamara Winikoff was invited as a panel speaker at ANU, School of Art Gallery, Canberra on a panel titled 'Advocating the Arts'.
NAVA presented two #NAVAideas webinars and twitter discussions on art education, and contemporary curating. Art education videos were particularly popular and received over 3,000 views.
Western Sydney Jam was held at Casula Powerhouse Arts Centre, which brought together artists and cultural workers from the region to discuss current issue and opportunities for the future. Podcast available online.
NAVA held its first Organisation Members Bar Talk on the topic of 'Leadership for Arts Organisations' at Hotel-Hotel in Canberra which was attended by 18 leaders of arts organisations. We're looking to host the next event in Sydney in the coming weeks.


3. NAVA Membership
NAVA conducted a membership and subscribers survey seeking feedback on our current membership structure and program, which will inform our future membership offerings.
As of August 2016, we now offer NAVA Premium and Premium Plus members access to Transit and Exhibition Insurance.

4. NAVA Services
NAVA Grants
NAVA congratulates all the winners of grants administered by NAVA.
Australian Artists' Grant
Recipients were Caitlin Franzmann, Anastasia Booth, Naomi Blacklock, Blake Lawrence and Clay Kerrigan; Martina Copley and Francesca Rendle-Short; Georgina Cue; Tina Havelock Stevens with Liberty Kerr; Laura Hindmarsh; Travis John Ficarra; Ross Manning; Julie Gough, Robert O'Connor and Francisca Moenne. This program is generously supported by Janet Holmes à Court and the Australia Council for the Arts.
Carstairs Residency Prize
The winner was Shoufay Derz. This program is supported by the Bundanon Trust and a private donor.
Freedman Grants and Exhibition
The Freedman Foundation Travelling Scholarship winners were announced at the exhibition of their work and that of returning scholars from 2014 held at UNSW Galleries in October. Winners were Alice Couttoupes, Brigitte Hart, Olivia Koh, Anna McMahon and Georgia Saxelby and returning scholars were Ella Condon, Michelle Day, Kelley Stapleton, Katie Turnbull and Brenton Smith. The exhibition was skillfully curated by UNSWA&D student Emily Sullivan, recipient of the Freedman Curatorial Scholarship.
Megan Monte was the 2016 winner of the Freedman Foundation International Scholarship for Curators.
NSW Artists' Grant
Recipients announced were Ella Barclay; Matthew Bromhead; Sarah Contos; Cybele Cox; Jacqueline Drinkall; Emma Fielden; Aesha Henderson; Deborah Kelly; Emily Parsons-Lord; Athena Thebus. This program is supported by Arts NSW.
Sainsbury Sculpture Grant
Winners were Dan Elborne; Ann Fuata; Lucreccia Quintanilla; and Lisa Sammut.


Online Courses
We are currently reviewing our online courses for better delivery in 2017.

NAVA website and resources
We have been reviewing our website, developing our online web content and improving navigation and usability for users.
We have updated our Code of Practice and website with information about super obligations for artists and arts practitioners invoicing galleries and arts organisations for contract work.
Following the Cairns ARI event, we have published an updated national list of ARIs on our website, and have developed additional guides for artists run initiatives.
A full list of studio spaces and residency opportunities will be available on our site soon.

Podcasts
We've created a NAVA Talks and Events iTunes channel available on the podcast app so our networks can easily access and tune into our talks and events.
Photo: NAAE delegation with Kate Ellis MP, Shadow Minister for TAFE and Vocational Education in Canberra.