2018 Reflections
Esther Anatolitis reflects on NAVA's year of advocacy and campaign work. Photo by Tanja Bruckner.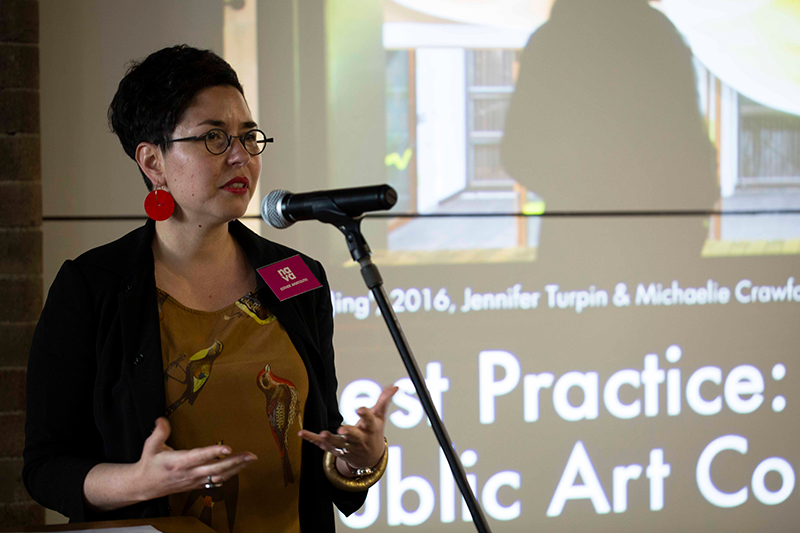 This year at NAVA has been all about amplifying the voice of the artist to lead the national agenda. Throughout 2018 we've presented the voices, career insights and courageous thinking of artists in our Artist Files and podcasts, on panels and workshops, as peer assessors, in the media, at conferences, in formal submissions, in meetings with politicians and decision-makers, and at sector roundtables in cities and regional centres across Australia. We've also commissioned new writing by artists for the NAVA News and other publications, true to our commitment to support arts writing in an environment where arts journalism continues to flounder.
And so it's timely that our final event for the year is Arts, Agency, Action: An advocacy workshop for artists on Wednesday 28 November at Bankstown Arts Centre. Having spent the year all across Australia – you know, I haven't spent more than two weekends in a row in Sydney since starting at NAVA! – I'm so looking forward to presenting this workshop in Western Sydney, and ending the year as it began: with a focus on advocacy, and how best we can direct that focus.
Especially given the elections coming up nationally and in NSW come 2019. This year we released Election Report Cards for the TAS, SA and Vic elections, exposed the political interference in an already assessed arts projects funding round, and condemned the capitulation to bullying that forced a national icon to advertise gambling.
We've contributed to government inquiries on Indigenous art, ABN reforms, DGR reforms, creative economies, copyright modernisation, digital platforms, skilled migration, soft power, national cultural institutions, and public advocacy for the public good.
We've spoken up on artistic freedoms, gendered harassment, philanthropy, cultural diversity, the federal budget, good governance, arts strategy that's not artist-focused, arts policy that's not conscionable.
We've called for fair pay and working conditions for artists, national standards for art in the public space, an Artistic Investment Framework that develops Australia's arts ambitiously, and national adherence to an updated Code of Practice, and we're working towards all of those things, consistently ensuring that unethical practices don't go by unexposed.
Future/Forward focused all of this and more, raising the bar for NAVA as we commit to the work we've outlined in our Strategic Plan. We will strengthen artists' capacity to develop and sustain their practice. We will set national industry standards that promote ambitious and fair practices. And we will amplify the voice of the artist to enrich the national conversation.
Throughout the year, once again we've responded to countless Member requests for confidential advice and support – the phones never stop ringing at HQ!… It's as true of NAVA as it is of any sector service organisation that our best work is the work you will never see. To be sure we're looking after ourselves equally as well, we've also instituted a Quiet Fridays policy so that we're finding the time for our own practice as well as encouraging a better working balance for ourselves and across the sector. Members of course can always get through in case of emergency.
As we reflect on 2018, exhale, and begin to imagine 2019, I'd like to thank NAVA's Members. All of you. Your commitment to your practice, your collaborators, your communities and your critics, and to creative solidarity, is what drives me every day.
Enjoy a restful and reflective summer break, and come 2019: let's work together on all this and more. Our year begins with an entire day devoted to critical reflection on practice – a collective intake of breath as we prepare ourselves for the new year.
How will your new year begin? To start the year right, take a leisurely look through NAVA's professional practice resources– there's a world of goodness awaiting you…
Esther Anatolitis.